And the nominees for the Abe Lincoln Book Award 2022 are...
What is the Abe Lincoln Book Award? Well, The Abe Lincoln Book Award is an annual award given to the author of the book voted most outstanding by students in grades nine through twelve in participating Illinois schools. This program encourages teens to read for pleasure and to become lifelong readers.
Here you can find out about this years nominees and discover more information about the books and their authors.
#NotYourPrincess
#NotYourPrincess: Voices of Native American Women ed. by Lisa Charleyboy and Mary Beth Leatherdale
Whether looking back to a troubled past or welcoming a hopeful future, the powerful voices of Indigenous women across North America resound in this book. In the same style as the best-selling Dreaming in Indian, #NotYourPrincess presents an eclectic collection of poems, essays, interviews, and art that combine to express the experience of being a Native woman. Stories of abuse, humiliation, and stereotyping are countered by the voices of passionate women making themselves heard and demanding change. Sometimes angry, often reflective, but always strong, the women in this book will give teen readers insight into the lives of women who, for so long, have been virtually invisible.
Allegedly
Allegedly by Tiffany Jackson
Orange Is the New Black meets Walter Dean Myers' Monster in this gritty, twisty, and haunting debut by Tiffany D. Jackson about a girl convicted of murder seeking the truth while surviving life in a group home.
Mary B. Addison killed a baby.
Allegedly. She didn't say much in that first interview with detectives, and the media filled in the only blanks that mattered: a white baby had died while under the care of a churchgoing black woman and her nine-year-old daughter. The public convicted Mary and the jury made it official. But did she do it?
There wasn't a point to setting the record straight before, but now she's got Ted and their unborn child to think about. When the state threatens to take her baby, Mary's fate now lies in the hands of the one person she distrusts the most: her Momma. No one knows the real Momma. But does anyone know the real Mary?
Brazen
Brazen: Rebel Ladies Who Rocked the World by Pénélope Bagieu
Through characteristic wit and dazzling drawings, a celebrated graphic novelist profiles the lives of formidable female role models-some world famous, some little known-including Nellie Bly, Mae Jemison, Josephine Baker, Naziq al-Abid and many others, in an entertaining, comic-style biography that is sure to inspire the next generation of rebel ladies.
Catfishing on Catnet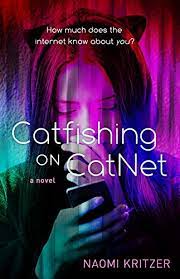 Catfishing on CatNet by Naomi Kritzer
How much does the internet know about YOU? What if the internet knows everything about you? What if it knows you better than you know yourself? What if the internet were a sentient A.I. who loves cat pictures? Steph hasn't stayed in one place longer than six months. Her only constant is an online community called CatNet--a social media site where users upload cat pictures--a place she knows she is welcome. What Steph doesn't know is that the admin of the site, CheshireCat, is a sentient A.I. When a threat from Steph's past catches up to her and ChesireCat's existence is discovered by outsiders, it's up to Steph and her friends, both online and IRL, to save her.
The Companion
The Companion by Katie Alender
The other orphans say Margot is lucky. Lucky to survive the horrible accident that killed her family. Lucky to have her own room because she wakes up screaming every night. And finally, lucky to be chosen by a prestigious family to live at their remote country estate. But it wasn't luck that made the Suttons rescue Margot from her bleak existence at the group home. Margot was handpicked to be a companion to their silent, mysterious daughter, Agatha. At first, helping with Agatha--and getting to know her handsome older brother--seems much better than the group home. But soon, the isolated, gothic house begins playing tricks on Margot's mind, making her question everything she believes about the Suttons . . . and herself. Margot's bad dreams may have stopped when she came to live with Agatha - but the real nightmare has just begun.
The Dark Matter of Mona Starr
The Dark Matter of Mona Starr by Laura Lee Gulledge
Mona lives with crippling depression and anxiety. Because the dark emotions that fill her chest feel elemental and expansive, she names them her 'Matter,' which can manifest as a black hole or fog or take on a ghostlike form. But no matter what she calls it, her mental illness keeps her from fully engaging with the world around her. Therapy helps and, through various techniques like meditation, recognizing behavior patterns, and drawing, Mona slowly begins to reconnect with her friends, family, and the art she loves so much. She even breaks out of her shell and tentatively expands her social circle.
Dig
Dig by A.S. King
Only a generation removed from being simple Pennsylvania potato farmers, Gottfried and Marla Hemmings managed to trade digging spuds for developing subdivisions and now sit atop a seven-figure bank account, wealth they've declined to pass on to their adult children or their teenage grand children. Now the five teenagers are lost in a tangled maze of family secrets. One of the teens sells pot; one has cancer; all are estranged from the family. As they come together for Easter dinner, will they be able to find their ways back to each other?
The Field Guide to the North American Teenager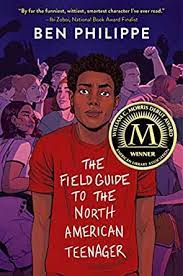 The Field Guide to the North American Teenager by Ben Philippe
Norris Kaplan is clever, cynical, and quite possibly too smart for his own good. A Black French Canadian, he knows from watching American sitcoms that those three things don't bode well when you are moving to Austin, Texas.
Plunked into a new high school and sweating a ridiculous amount from the oppressive Texas heat, Norris finds himself cataloging everyone he meets: the Cheerleaders, the Jocks, the Loners, and even the Manic Pixie Dream Girl. Making a ton of friends has never been a priority for him, and this way he can at least amuse himself until it&;s time to go back to Canada, where he belongs.
Yet against all odds, those labels soon become actual people to Norris, like loner Liam, who makes it his mission to befriend Norris, or Madison the beta cheerleader, who is so nice that it has to be a trap. Not to mention Aarti the Manic Pixie Dream Girl, who might, in fact, be a real love interest in the making.
But the night of the prom, Norris screws everything up royally. As he tries to pick up the pieces, he realizes it might be time to stop hiding behind his snarky opinions and start living his life along with the people who have found their way into his heart.
Frankly in Love
Frankly in Love by David Yoon
Frank Li has always known his parents expected him to date a fellow Korean American. It was an unspoken rule he tried not to think about until he finds himself kissing, texting, and overall obsessing over Brit-who's white. To save himself from his parent's disappointment (or outright condemnation) Frank hatches a plan to create a faux relationship with longtime family friend Joy, who has also fallen for a non-Korean. It seems like the perfect plan, at least, for a little while.
Girl Made of Stars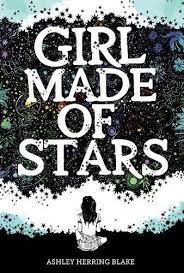 Girl Made of Stars by Ashley Herring Blake
When Mara's twin brother Owen is accused of rape by her friend Hannah, Mara is forced to confront her feelings about her family, her sense of right and wrong, a trauma from her past, and the future with her girlfriend, Charlie.
If I Was Your Girl
If I Was Your Girl by Meredith Russo
Amanda Hardy only wants to fit in at her new school, but she is keeping a big secret, so when she falls for Grant, guarded Amanda finds herself yearning to share with him everything about herself, including her previous life as Andrew.
The Inheritance Games
The Inheritance Games by Jennifer Lynn Barnes
Avery Grambs has a plan for a better future: survive high school, win a scholarship, and get out. But her fortunes change in an instant when billionaire Tobias Hawthorne dies and leaves Avery virtually his entire fortune. The catch? Avery has no idea why -- or even who Tobias Hawthorne is.

To receive her inheritance, Avery must move into sprawling, secret passage-filled Hawthorne House, where every room bears the old man's touch -- and his love of puzzles, riddles, and codes. Unfortunately for Avery, Hawthorne House is also occupied by the family that Tobias Hawthorne just dispossessed. This includes the four Hawthorne grandsons: dangerous, magnetic, brilliant boys who grew up with every expectation that one day, they would inherit billions. Heir apparent Grayson Hawthorne is convinced that Avery must be a conwoman, and he's determined to take her down. His brother, Jameson, views her as their grandfather's last hurrah: a twisted riddle, a puzzle to be solved. Caught in a world of wealth and privilege, with danger around every turn, Avery will have to play the game herself just to survive.
Moxie
Moxie by Jennifer Mathieu
Vivian's mom was a rebel. In the nineties, she followed her favorite punk-rock bands across the Pacific Northwest and championed the Riot Grrrl movement. When Vivian's father died a few months after Vivian was born, her mom returned home. Vivian, raised in East Rockport, Texas, where high-school football stars are king and their bad behavior is excused by a blind-eyed administration, is a mild-mannered good girl. But when she witnesses a sexist incident in class, she is disturbed. One trip to a copy store later, and Moxie is born: an anonymous, Riot Grrrl-inspired zine that contains both a diatribe and a call to action. These actions start small, but as more girls become involved, the movement grows, protesting everything from an unfairly enforced dress code to sexual harassment. The novel's triumphs-and there are many-lie in the way the zine opens Vivian's eyes to the way girls are treated, and to the additional roadblocks that her classmates of color face.
Ordinary Hazards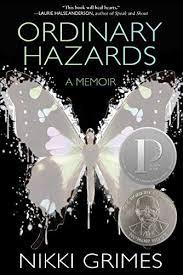 Ordinary Hazards by Nikki Grimes
The award-winning author of Garvey's Choice describes her childhood marked by a mentally ill mother, a mostly absent father, abusive caregivers, stints in a succession of foster homes and how, from a very young age, she discovered the magic and solace of writing in order to deal with the pain and hazards of her life.
Punching the Air
Punching the Air by Ibi Zoboi and Yusef Salaam
The award-winning author of American Street and the prison reform activist of the Exonerated Five trace the story of a young artist and poet whose prospects at a diverse art school are threatened by a racially biased system and a tragic altercation in a gentrifying neighborhood.
Sorcery of Thorns
Sorcery of Thorns by Margaret Roberson
Sixteen-year-old Elisabeth is a foundling, raised in one of the Great Libraries, repositories of magical books called grimoires, which contain classified information and can transform into grotesque monsters. A favorite of the library's director, Elisabeth dreams of becoming a warden-librarian who protects the kingdom from grimoires. Then the director is found brutally murdered, and Elisabeth is accused of the crime. Taken for questioning in the capital, Elizabeth develops a relationship with both her captors, sorcerer Nathaniel Thorn and his demon servant, Silas. It's a slow-burn romance for Nathaniel and Elisabeth, for Elisabeth's preconceptions about sorcerers run deep and are not without cause.
Stamped
Stamped : Racism, Antiracism, and You: a Remix of the National Book Award-Winning Stamped from the Beginning by Jason Reynolds and Ibram X. Kendi
Reynolds continues his prolific streak with an absorbing young reader's adaptation of Kendi's National Book Award-winning title, Stamped from the Beginning (2016). "This is not a history book" declares Reynolds at the outset, an announcement that instantly absorbs readers, displaying the author's singular way of communicating with young people. Reynolds' "remix" begins in 1415 and travels into the present in five well-paced sections, following the general outline of Kendi's comprehensive title. Through figures like Cotton Mather, W. E. B Du Bois, and Angela Davis, among others, the thought patterns of segregationists, assimilationists, and antiracists, respectively, are elucidated, along with the impact such ideas have on all aspects of American life. Throughout the book, Reynolds inserts literal pauses ("Record scratch"), and interjects with commentary ("Let that sink in") and clarifications, a way of insisting that the pages are not merely text, but a conversation.
Stepsister
Stepsister by Jennifer Donnelly
Isabelle is one of Cinderella's ugly stepsisters, who cut off her toes in an attempt to fit into the glass slipper; but there is more to her story than a maimed foot, for the Marquis de la Chance is about to offer her a choice and the opportunity to change her fate--there will be blood and danger, but also the possibility of redemption and triumph, and most of all the chance to find her true self.
We Are Not From Here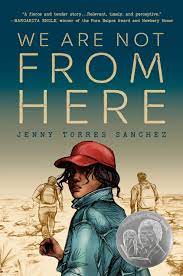 We Are Not From Here by Jenny Torres Sanchez
Pulga has his dreams. Chico has his grief. Pequeäna has her pride. And these three teens have one another. But, none of them have illusions about the town they've grown up in and the dangers that surround them. Even with the love of family, threats lurkaround every corner. And when those threats become all too real, the trio knows they have no choice but to run: from their country, from their families, from their beloved home. Crossing from Guatemala through Mexico, they follow the route of La Bestia, the perilous train system that might deliver them to a better life - if they are lucky enough to survive the journey. With nothing but the bags on their backs and desperation drumming through their hearts, Pulga, Chico, and Pequeäna know there is no turning back, despite the unknown that awaits them. And the darkness that seems to follow wherever they go.
With the Fire on High
With the Fire on High by Elizabeth Acevedo
Ever since she got pregnant freshman year, Emoni Santiago has been doing what has to be done for her daughter and her abuela. The one place she can let all that go is in the kitchen, where she adds a little something magical to everything she cooks, turning her food into straight-up goodness. She dreams of working as a chef after she graduates, but knows that is impossible. But once Emoni starts cooking, her only choice is to let her talent break free
---